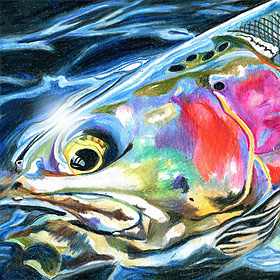 AWESOME ART THAT CAPTURES the essence of fish of all kinds, as close ups or in their environs, is a primary focus for Rosi. Fish and water simply inspire her to create colored pencil visions that both the fisher and she can enjoy.
Many of the original photographs that inspire Rosi to pick up her pencils and start creating come by way of a growing number of fans and friends who follow Rosi at Xstream – The Art of Rosi Oldenburg on Facebook. Praise from her ardent fans speaks volumes about the striking, beautiful art that captures their eye and hearts.
Here's a sampling of what they have to say…
I love the expressions in every eye you draw. You have amazing talent Rosi.

What Steven Ooi does with his camera is what you do with your pencils, Rosi! And that is creating magic!

Wow! That's incredible!
Rosi is encouraging you to explore Angling Art category in the Online Store on the Rosi Oldenburg Fine Art web site to see the full versions of the animated feature (above) as many of the original images have been cropped to fit this showcase specific to fish and/or angling.
You know Rosi… she LOVES to create art of fish and water!
Rosi Oldenburg Fine Art
New York | NY • USA